A NASA-sponsored research center of excellence striving to support underserved and underrepresented student populations engaging in STEAHM.

LEARN ABOUT
INCREASINGLY AUTONOMOUS SYSTEMS
WITH OUR STUDENT ARCS SEMINARS

CSUN's Autonomy Research Center for STEAHM Partners with Medtronic to Build Solutions for Diabetes Comorbidities

EXCLUSIVE: Autonomous Swarms Exploring Space

CSUN ARCS Helps Build JPL's Laboratory of the Future from Home

Mars Rover Watch Party
…of revolutionary convergence of multiple, unrelated disciplines
…of scientific discoveries that bring mostly divergent trails together
…of trailblazing researchers who utilize this convergence to conceive, design, implement, and operate systems, processes, and products that overcome the greatest humanitarian, medical, environmental challenges in the coming century.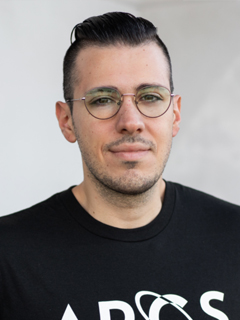 Sarkis Serge Mikaelian
Artificial Intelligence Intern at NASA Langley Research Center
"ARCS has been the ultimate stepping stone for me to reach greater heights. The Fellowship has given me the confidence to practice the knowledge and skills I gained at CSUN and apply them to research. Because of ARCS, I was given the opportunity to define my future goals and work with NASA Engineers towards making a change in the world.
It is absolutely fair to say that ARCS has been one of the best things to happen at CSUN. As an undergraduate student, I have wanted to get involved in scientific research for years and it was not until my involvement with ARCS that I was able to do so. The fellowship experience is quite unique in many ways and the fact that it is led by some of the best academic minds and an incredible network of NASA collaborators adds an outstanding value to it. Since it is quite hard to gain experience in the field of Autonomy through the regular curriculum, ARCS has made it possible for me to get involved and gain professional experience in the field. Coming from a minority background, I always sought to practice my leadership and technical skills to seek a professional career path in the Aerospace industry, through ARCS, I was given the opportunity to prove myself and let my voice be heard, which is essential for every student to gain exposure when pursuing a professional career."
ARCS Students Internship Experience
Since 2020, a total of 17 CSUN students have had ARCS facilitated internships with NASA(JPL, Ames, Armstrong, and Langley)!
Their time as interns brought them many valuable lessons and skills.
"It has been an incredible firsthand experience in which I was able to strengthen my communication skills (both virtually and in-person), data organization, and presenting my work in a professional/formal way."

Make Anything, Matadors
Student Innovation Challenge
A transdisciplinary campus-wide contest for all CSUN students in all majors who have an innovative product idea they would like to see come to life. Prizes include $30,000 and a residency at Autodesk Technology Center.

ARCS Founder and Director, Dr. Nhut Ho, accepted into Forbes Business Council
Forbes Business Council Is an Invitation-Only Community for Successful Business Owners and Leaders
(NORTHRIDGE, March 10, 2021) Dr. Nhut Ho, Founder and Director of the Autonomy Research Center for STEAHM at the California University of Northridge, a NASA-sponsored…

The Autonomy Research Center for STEAHM Celebrates a Successful Year Two Liftoff Event Focusing on Diversity and Inclusion in STEAHM
ARCS brings together a Women in STEAHM Panel discussion and special guest speaker, Director of NASA Armstrong Flight Research Center, David D. McBride for Year Two Lift-Off Event 

ARCS Seminars
ARCS Fellows present their research to ARCS members and collaborators and engage in discussions with other research groups on campus and the CSUN community.

California State University Northridge ARCS Students Join Forces with NASA to Design Next Generation Spacesuits
(NORTHRIDGE, March 16, 2021) — Students at the Autonomy Research Center for STEAHM (ARCS) at the California State University, Northridge (CSUN) have been invited to participate in the NASA Spacesuit…

ARCS Associate works on PIXL project aligned with NASA Mars 2020 Mission
With NASA's Mars 2020 mission in full swing, California State University, Northridge's Autonomy Research Center for STEAHM (ARCS) continues to support its initiatives with dedicated student fellows like Rimma Hamalainen…

ARCS Community Game Nights
ARCS Students and Faculty, come together virtually once a month to take a break from the rigours of autonomy research and enjoy one of society's favorite past times, game night! From classics like Bingo and Pictionary, to modern thrills taking the gaming world by storm like Among Us, there's no limit to the shenanigans!

What is Autonomy Research?
Increasingly autonomous (IA) systems include a wide range of features and capabilities, from unmanned robots to devices that have the ability to adapt to different environments. The use of IA systems can have a lasting impact on individuals and the development…

The Aerospace Corporation (TAC)
The Aerospace Corporation (TAC), a nonprofit organization running the only federally funded research center focusing on space enterprise, hosted ARCS' very first corporate connect event on February 18. Over 40 students attended the two-hour session which…

CSUN + ARCS Mars Perseverance Watch Party
ARCS hosted a watch party for the historic landing of the Mars Perseverance Rover which featured a pre-landing one-hour Q&A session with special guest Dr. Scott Davidoff, UX Design and Research Manager at NASA Jet Propulsion Laboratory…

ARCS "LIFTOFF" Grand Opening
(February 27, 2020) The grand opening celebration of the center and the groundbreaking research that ARCS Fellows launched in partnership with senior scientists at the Jet Propulsion Laboratory and NASA Armstrong Flight Research Center.