A NASA funded research center of excellence striving to serve minority and underserved student populations engaging in STEAHM.

LEARN ABOUT
INCREASINGLY AUTONOMOUS SYSTEMS
WITH OUR STUDENT COLLOQUIA AND SEMINARS
By combining the knowledge, experience, and talents of faculty and students from across CSUN, including Science, Technology and Engineering, Entrepreneurship and Business, Arts, Humanities and Mathematics, The Autonomy Research Center for STEAHM (ARCS) is a NASA-funded multidisciplinary university center of excellence.
Our vision is to be a global leader in education, research and commercialization regarding increasingly autonomous (IA) systems. We converge in our desire to research and advance our students' education and together create a new trajectory to make a societal impact and improve our world.
Researching the Researchers: CSUN Anthropological Study Seeks to Streamline Remote Work at JPL
A small team of student researchers from Cal State, Northridge has embarked on an anthropological study of remote working conditions at NASA's Jet Propulsion Laboratory in an effort to help improve communication and streamline the process…
EXCLUSIVE: Autonomous Swarms Exploring Space
Dr. Nhut Tan Ho is currently Founding Director of the NASA Autonomy Research Center for STEAHM and a Professor of Mechanical Engineering at California State University, Northridge (CSUN), where he has taken on multifaceted leadership roles with the purpose of making meaningful and deep impact on students and society…
CSUN ARCS Helps Build JPL's Laboratory of the Future from Home 
A new model of studying the workplace culture is being created as a team from the Autonomy Research Center for STEAHM (ARCS) at California State University, Northridge collaborates virtually with staff at the NASA's Jet Propulsion Laboratory (JPL) to create the laboratory of the future…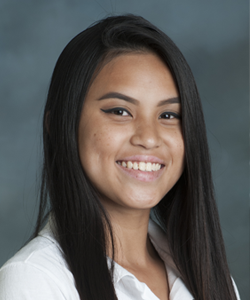 Ashley Santiago
Raytheon Intelligence & Space, Technical Support Intern/JPL Contractor
"I wanted to join ARCS because of my prior experience with AI and my love for space. It has helped me learn that there definitely are projects that utilize design and that designers are needed even in a STEM environment. Being at ARCS made me realize that my new goal is to connect the bridge between art & design and STEM and continue spreading design knowledge and the importance of design. Thanks to ARCS,  I ended up receiving an internship opportunity to use my user experience and research skills as a designer for the International GNSS Service at NASA JPL."
ARCS "Lift-Off" Grand Opening
(February 27, 2020) The grand opening celebration of the center and the groundbreaking research that ARCS Fellows launched in partnership with senior scientists at the Jet Propulsion Laboratory and NASA Armstrong Flight Research Center.
Student Colloquia
Students present what they have learned from their literature reviews and research, with the goal of sharing and energizing discourse, ideas, and collaboration among faculty, students, and the CSUN community.
Student Seminars
ARCS Fellows present their research to ARCS members and collaborators and engage in discussions with other research groups on campus and the CSUN community.
Leaders Speakers Series
(Fall 2020) A student-led monthly speaker series that invites role models who are historically underserved and underrepresented to share their path to success with ARCS students.