WHAT IS ARCS?
California State University, Northridge's (CSUN) Autonomy Research Center for STEAHM (ARCS) is a NASA-sponsored, chartered Center of Excellence. We aim to combine transdisciplinary, university-wide knowledge and talent from faculty, students, and NASA scientists to conduct convergence research and collaboration using increasingly autonomous systems (IA). Learn More

Watch an enlightening ARCS SPOTlight interview featuring Vicki Truong,
a distinguished ARCS fellow at CSUN,
accompanied by the remarkable ARCS SPOT robot.

Today we highlight Socorro Dyal de Castro. Affectionately known as Coco, she is an accomplished ARCS associate who has been making waves in the art community. Having previously been a fellow in 2022 and a recent volunteer, Coco's artistic journey has been nothing short of inspiring. Her work has been featured in CSUN's Annual Juried Art Student Exhibition for two years in a row and was a first-place winner in CSUN's Revitalize CCRP: Student Art Competition.Alongside her involvement in the prestigious ARCS program, she also volunteered with IntersectLA, a student-based organization that took part in CSUN's 12th Annual Hi-Rez event. This special event showcases graduating seniors from CSUN's very own IntersectLA, ImpactDesignHub, SAGA and Communications Design program. For two nights, the CSUN Art Galleries hosted friends, families and industry professionals in celebration of the students' innovative work. Coco's creative prowess was evident as she made a remarkable contribution to the student exhibition, leaving the audience captivated by her unique artistic vision and meticulous designs.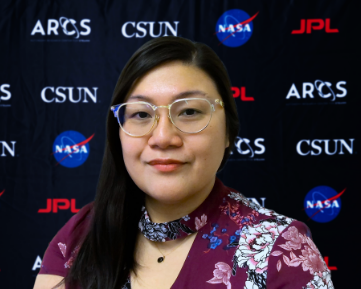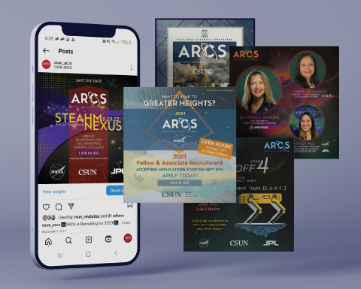 "My journey with ARCS as a designer and fellow was nothing short of incredible. ARCS gave me the opportunity to work with so many associates outside of my discipline and expanded my learning experience at CSUN. I am an older student who took a hiatus before taking the plunge from being an elementary school technology instructor (for ten years!) to being a university art student, and I have no regrets. I hope that sharing my story will encourage those who might be hesitant about enrolling at CSUN or applying for ARCS. It's never too late to go back to school and change your profession; we ultimately make the best decisions for ourselves. Pursue your passions, follow your own timeline, and never stop exploring! A lifetime of THANK YOUs to my esteemed mentor, Prof. Joe Bautista, and the ARCS Public Relations & Communications team. Andila, Itzel, Keiana, and Tina: You have all set the standard and I could only hope for continued opportunities to work alongside such amazing peers and colleagues like yourselves. To my wonderful husband, Jeff, and my four-year-old, Ripley Elarra: None of this would have been possible without your unconditional faith, love, and support. Congratulations, Class of 2023!"

What is Monthly Seminar?
ARCS Fellows present their research to ARCS members and collaborators and engage in discussions with other research groups on campus and the CSUN community.
May
Time: 10:00 am – Autonomy in LawTime: 10:30 am – Consortium for High-Volume Additive Manufacturing of Aerospace Heat Exchanger and Talent Development
—Seminar will end at 11:00 am—
Location: ARCS Center at the CSUN Reseda Annex building
9324 Reseda blvd Ste 210
Reseda, ca 91324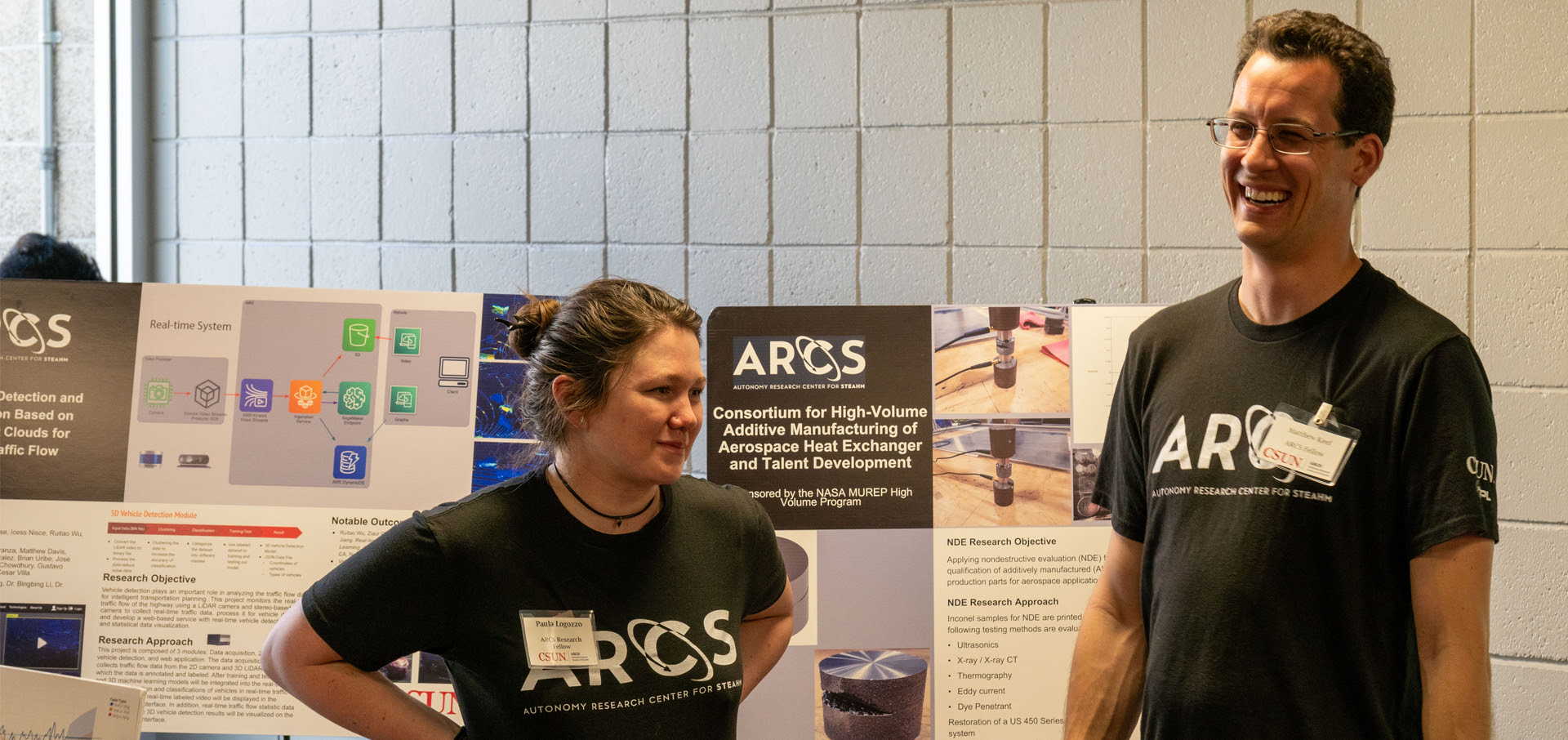 Consortim for High-volume additive manufacturin of Aerospace Heat Exchanger and Talent Development
Matthew Keef and Paula Logozzo
NDE (non-destructive evaluation) of AM (additive manufactured) materials. This project is designed to test AM heat exchangers, manufactured into the smallest possible design and use NDE in order to find integrity and porosity defects. This is Stage 4 of the Consortium for High-volume Additive Manufacturing Aerospace and Heat Exchanger and Talent Development Project.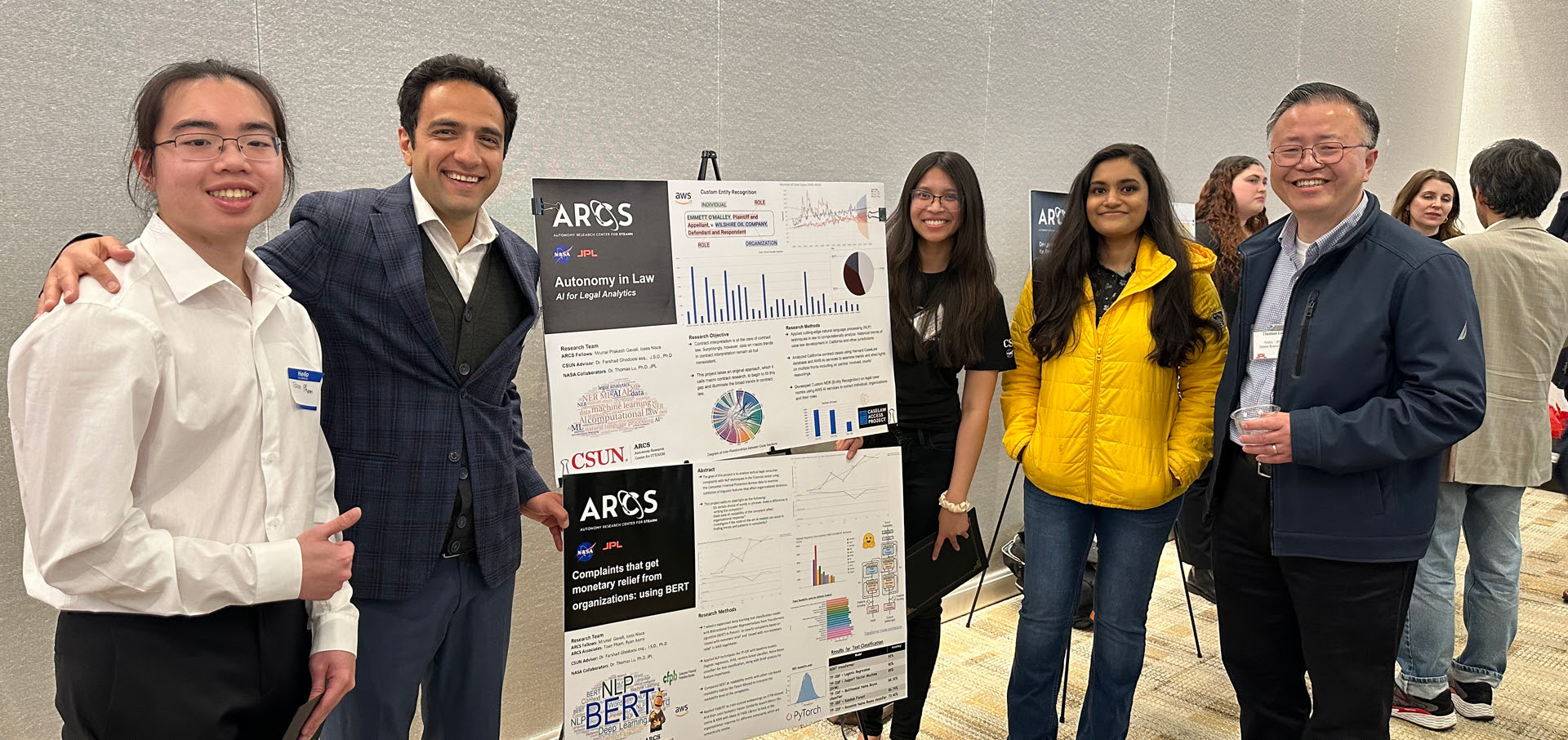 Toan Pham, Bhumilkumar Kukadiya, and Icess Lana Nisce
We will be presenting a few autonomous processes we are using with regard to machine learning, NLP, and AI-chatGPT to help process law-case databases as well as what conclusions or findings we can extract from them. More precisely, what were are currently doing with Finra, CFTC, and a few past projects.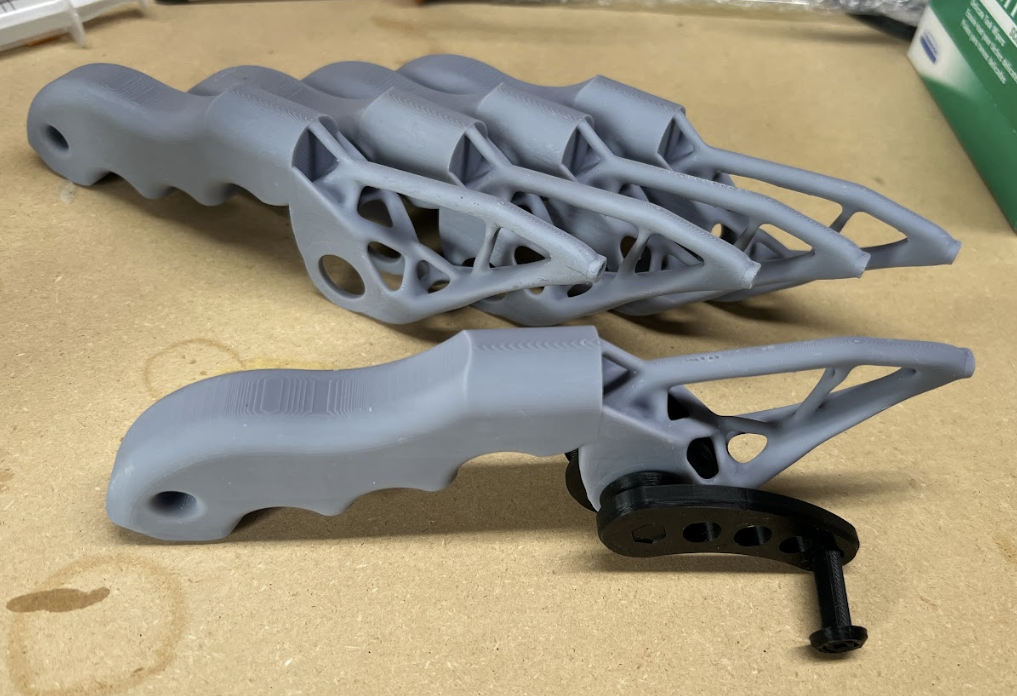 Fishing rods designed with generative AI, and manufactured with a 3D printer.
"If you give a person a fish, you feed them for a day. If you teach a person to fish, you feed them for a lifetime."
TRANSFORM THE TRAJECTORY OF A STUDENT LIFE WITH A $100 NASA INTERNSHIP FISHING ROD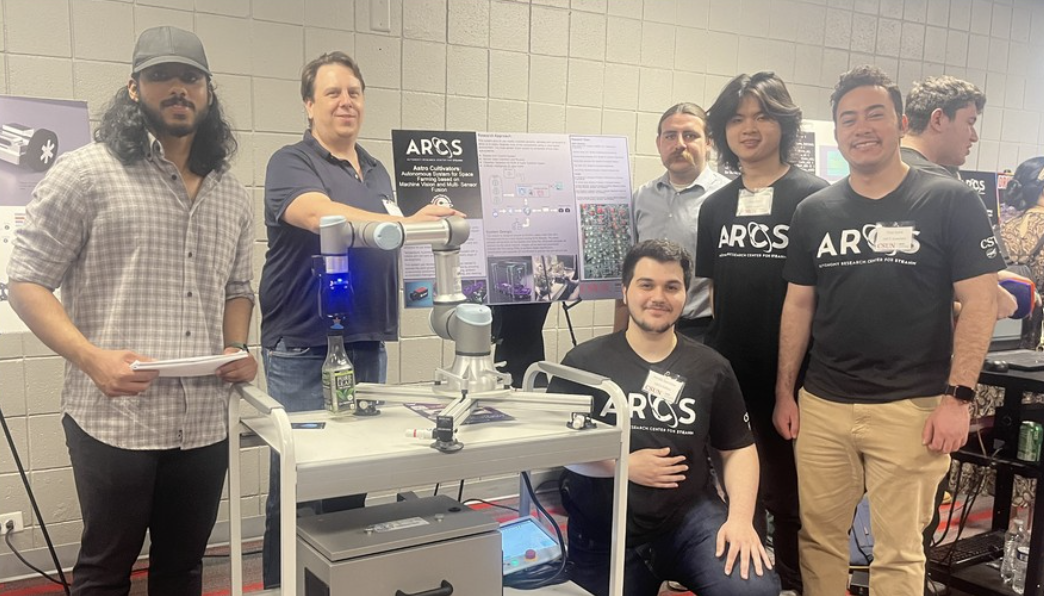 NASA Deep Space Food Challenge & Crate Farming
Elliott Sadler, Anthony Morales Badajoz, and Neville E
Dr. Bingbing Li leads Astro Cultivators: Autonomous Growth System for Space Farming. Our research is a joint effort between the Autonomy Research Center for STEAHM (ARCs) and the Marilyn Magaram Center (MMC). This collaborative research group focuses on creating Autonomous and Sustainable growth systems that can be integrated into existing plant systems. We aim to create a system that can be attached to NASA's current Vegetable Production System, known as Veggie. The project, however, has been extended to include integration for freight farm systems. These systems focus on terrestrial vertical farming inside freights with controlled environments; however, they require various human interventions. Our design aims to minimize human input in these self-sustainable plant growth systems to maximize plant health and crop output.
We have been working on different fronts with Universal Robots UR3e Robotic Arm, Cubert Ultris 5 Hyperspectral Imagine, AI-based Image Identification, and API. This includes researching solutions for autonomous robot arm control, Hyperspectral imaging theory and workflow, AI models for object identification, and different API framework options. We hope to find viable solutions that allow us to simplify the integration of these individual parts while keeping the system modular enough that future revisions can be modified for other autonomous plant growth systems.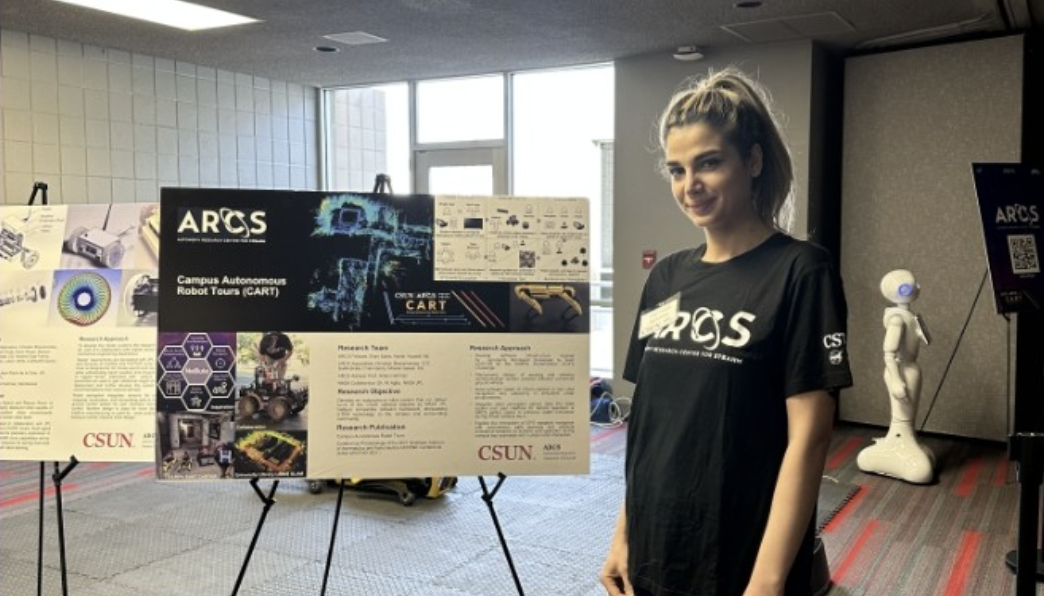 Campus Autonomous Robot Tours (CART)
Hariet Yousefi and Shari Salas
Campus Autonomous Robot Tours, or CART, is a multidisciplinary approach to delivering a tour experience through the eyes of Spot, a quadruped robot, and crewless ground vehicle Husky. CART is inspired by the success of NASA JPL Team CoSTAR NeBula Autonomy Solution for multi-agent robot teaming to explore extreme environments in the DARPA SubTerranean Challenge. Redundant mechatronic safety systems are developed to enhance autonomy behavior on Spot for safer operation in a dense urban environment. In collaboration with HCMUT, the Husky autonomy performance is tested in a simulated campus environment. The goal of the research is to share STEM technology by delivering robot-automated tours to members of the campus community.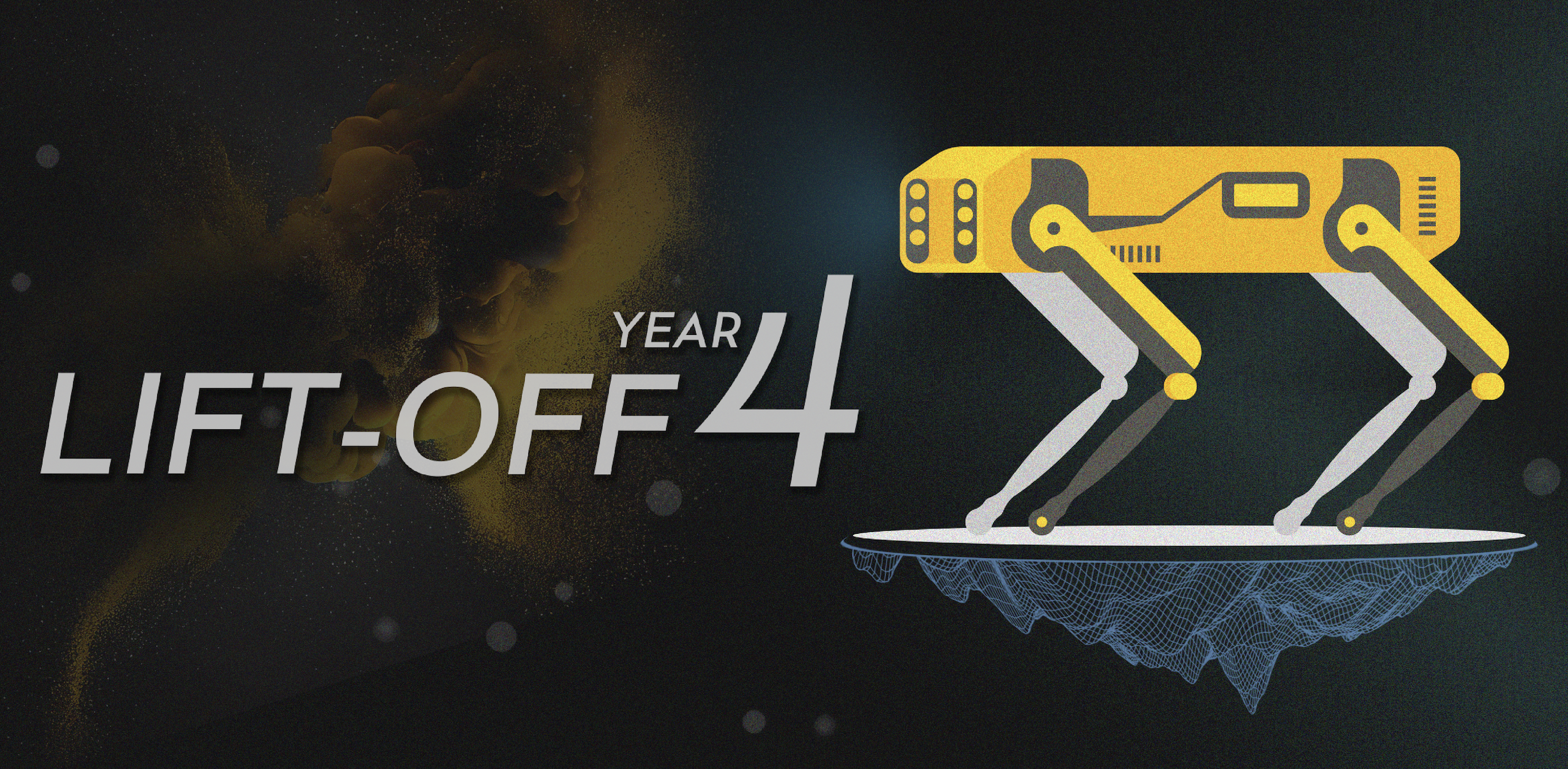 We're delighted that our 4th Annual Lift-Off Event was an incredible success! This year's event was our biggest and best yet, and we were thrilled to see so many enthusiastic attendees join us in celebration.
Dr. Meera Komarraju, CSUN Provost, warmly welcomed 350+ guests from NASA/JPL, industry, CSUN, K-12 academia, and government. We had the honor of receiving a distinguished keynote speaker, Dr. Debra Emmons, who delivered an inspiring speech that captivated the audience. Our Dancing SPOT robot was another event highlight, which delighted everyone with its impressive moves!
In addition, our student speakers and poster exhibit showcased our students' incredible talent and achievements, leaving everyone impressed and inspired. We were delighted to have provided a platform for our students to share their stories and accomplishments with the community.
We are grateful to everyone who RSVP'd promptly, and their support helped us plan the perfect amount of delicious food and fun activities for everyone to enjoy.
We're thrilled to have had such an excellent opportunity to connect with our students and faculty and industry leaders and make new friends who share our passion for excellence.
The event was an unforgettable experience that we'll always cherish. Thank you to everyone who joined us; we can't wait to see you again soon!